You could have thought of reading the best book you like. But, you might have postponed reading it.
I know the reason why! That is because you don't know where to buy books from.
You don't have to buy these books you like, anymore. Yes, if you can rent books online and you can return them after you finished reading, why do you need to buy textbooks anymore?
Am I hearing this right
Best of all, there are no late fees for book rentals here. Yes, you have heard right, you don't need to pay any extra fees when you return the book lately.  Awesome right! Yes, you can keep those books as long as you need and return the book as there is no due date or late fees here.
What is that website where you can rent books online?
Here is that website to rent books which I have gone through a few months ago. On seeing it for the first time, I felt that it as one of the regular textbook rentals website to rent textbooks online. To just have a trail I registered to that website and paid a few bucks. Before registering I have searched for some books and added a few to my queue. After 2 days I have got a courier with a book inside it.
And then I felt awesome. After reading the book I simply posted it to the address on the cover that I received. After a few days, another book from the queue that I have added earlier came to my house. From then on I have become a huge fan of that website. The website I have ordered for books is the BookLender. Click the below image to take a tour of BookLender.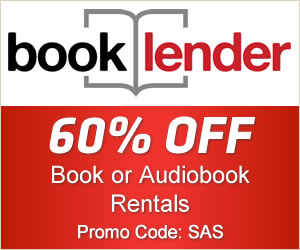 You could save a lot
Are you thinking, how we could save by renting books? No, you have heard wrong, you can never save money by renting books online. But you can save a lot of them by renting them in the book lender.
Renting books in book lender will save 60% to 80% of your money other than buying the books. With that much money you save from book buying, you could rent some more books and you can read to your heart.
How many books can I find here?
In BookLender there are over 250,000 paperback books and 40,000 audiobooks, from old to new, in different categories. You can select the books you like and add them to the queue, the books in the queue will be automatically sent to your address.
You can change the books in your queue and the queue will be updated. Below is the list of available categories in BookLender for you to choose.
---
Different plans in BookLender
BookLender has different plans for different customers. For those who wish to read more books in a month can have a plan that suits them. If you wish to read fewer books within a month due to the shortage of time, you can proceed with a lesser plan.
But whichever plan you choose you always have a chance to change it any time in the future. So, you need not worry about it. Choose a plan that suits you and enjoy the books you like. There are two plans in BookLender namely 'The unlimited plan' and 'The limited plan'. You can select any one of those to get started.
The unlimited plan
The unlimited plan suits for the book lovers. In the unlimited plan, you can get as many books as you want for the month. But you can select as many as books you want to get at a time. If you want more books at a time you can select a greater plan. In the minimum plan in the unlimited plan, you will get two books at a time.
Select Plan Type
Select your plan type and payment type based on the type of books you need. You can select paperback books or CD/MP3-CD Audiobooks.
PaperBack Books
The paperback books can be rented as 2 at a time to 15 at a time. After you complete the books and send them back, you will get the next books based on your plan.
CD, MP3 Audiobooks
The CD MP3 Audiobooks have got six different variations from 1 at a time to 6 at a time. Each plan has different variations. You can choose anyone based on your interest.
Paperback Books & Audiobooks
Need both paperback books and audiobooks too. Don't worry, BookLender also has a separate plan for that. You can get both the formats at a time. Different combinations of plans are available for you to select.
The Limited Plan
The limited plan is just for you. In this plan, you need not pay more for textbook rentals. Even though you have interest in books you may not read many books in a month. Mostly a person can reed just 2 to 3 books per month.
Select Plan Type
So if you cannot read that much then why to pay that much. So continue with a limited plan to rent books from BookLender. In this plan, you can get a minimum of two books per month to six books per month.
Paperback Books
For paperback books, you can get two per month or four per month or six per month. The pricing is as shown in the table beside.
CD, MP3-CD audiobooks
The CD, MP3-CD audiobooks also can be ordered one or two or three per month. The pricing varies with the number of products per month.
MP3-CD audiobooks
The MP3-CD audiobooks can also be ordered as CD, MP3-CD audiobooks as one or two or three per month in the limited plan.
Rent anything individually
Are you feeling a little uneasy with all these plans to rent books online? Don't you want to read the books continuously? Don't worry they have a separate plan type for you. You do not need to pay a monthly rent; you can rent these books individually. Just select the book you want to read and order it. That's all; you will get the book you want.
---
How to rent books in BookLender
Register with BookLender
Below is the link to BookLender where you can register with BookLender. "The link is activated with 50% discount."
Select the media you want to join that is the unlimited plan or the limited plan
Select your plan based on your choice.
Fill in the details to create an account
Confirm using the confirmation mail and join the BookLender
Select your book
Select the category which you are interested in and select the book you like in the list in that category. Every category consists of thousands of books. All are well organised and sorted for good convenience to the user.
Add to queue
The book you selected will be automatically added to the queue. The book will come to the address you specified in your account.
Read your book
Read your book, take your time. Don't worry, you can keep the book as long as you can. Because there are no late fines.
Submission
After you have read the book, go to your nearest post office and post it to the official address of BookLender. That's it, the book will reach its destiny.
The next book
Once the book reaches the store, the next book in your queue will be sent to your address immediately.
So, don't ever worry about other things, simply register with BookLender and add some books to the queue. Register with the BookLender now.
Conclusion
One word before closing. You might ask why to rent books when we can buy them or even we can rent ebooks online. Hundreds of read-books may be stored in houses in bookshelves; they are not useful to others other than the one who brought it. This is causing more and more wood to be cut down to make new books.
"Renting books always saves the environment"
It is always good to rent textbooks and save the environment as book renting is environmentally friendly. You need not waste your time on travelling to the libraries and you need not spend long hours searching for the book you need in the vast book in bookshelves.
There are many book renting sites on the internet but BookLender is one of the best book rental sites. If you are in search of places to rent college textbooks, no need to walk long distances to find the libraries and stores. You will find the BookLender as one of the best websites to rent books.
Additionally you can learn some online classes for free Here